Herb Ohta Jr. & Daniel Ho featuring "A Song for Anna" with special guest Ohta-san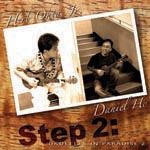 Product Description
Song List
1. Step It Up 2. A Song for Anna 3. Ka Wai Lehua 'A'ala Ka Honua 4. Pineapple Mango 5. Sanoe 6. Ka'anapali Sunset 7. 'Ukuleles in Paradise 8. Maika'i Ka Makani O Kohala 9. Somewhere Over the Rainbow 10. Kaimana Hila 11. Hawaii Aloha
Click on link below for demo
_____________________________________________________________________________________________
Album Notes
Back again with their second collaboration, Herb Ohta, Jr. (on the left speaker) and Grammy award winner, Daniel Ho (on the right speaker) present a splendid collection of 'ukulele duets, featuring classic Hawaiian melodies and original compositions. 'Ukulele legend, Ohta San joins them as the trio performs an inspiring arrangement of his international hit, A Song for Anna.
Here we are again! Many tours and countless gigs after we released 'Ukuleles in Paradise, we have another project EStep 2: ('Ukuleles in Paradise 2). As with our initial duet release, the concept remains the same: showcase two 'ukuleles in a pure, acoustic setting with Daniel playing on the right channel and Herb on the left. This time, we took our collaboration a step further and included some original compositions. We are also honored that 'ukulele master Ohta San has joined us on A Song for Anna! This is Ohta San's first studio recording of A Song for Anna since it sold over six million copies in the 1970's! Mahalo nui loa for your support Ewe hope you enjoy these recordings and we look forward to meeting you at a one of our performances!
Aloha, Daniel & Herb
_____________________________________________________________________________________________
Credits
Herb Ohta, Jr. - Tenor 'ukulele
Daniel Ho - D-VI tenor 'ukulele, recording, mixing, mastering, & additional photography
Ohta San - 'Ukulele on A Song for Anna
Stephen M. Sano - Liner notes
Sharlene Oshiro - Cover concept & graphic design
Lydia Miyashiro - Photography
Herb Ohta, Jr. & Daniel Ho play KoAloha 'ukuleles.
www.herbohtajr.com
www.jrjrjr.com
Record Label: Daniel Ho Creations
Recorded: November 2005 & January 2006
Release Date: April 2006
Accessories